Friends of Sharphill Wood 
2015 Annual Report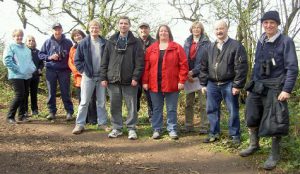 May 2015 
 Founded 22 January 2008: Sixth Annual Report 
There were 10 meetings of the Friends of Sharphill Wood in the year to 12 May 2015. The Annual General Meeting on 13 May 2014 elected Phil Miller (Chair), Mike Rivett (Vice Chair), Chrissie Wells (Treasurer), Jo Miller (Press Officer) John Elwell (Work Party Coordinator) and Bill Logan (Secretary). 
There were 102 Friends on the circulation list in May 2015.  
Management developments 
A meeting was held on 12 August 2014 with Rushcliffe Borough Council and Nottinghamshire Wildlife Trust to review progress with the Management Plan and other concerns. Various options for tackling path and boundary hedge maintenance were discussed and actions taken forward. To address concerns with the proposed building development, it was suggested that the Group meet with Borough planning officers and this was held on 25 September 2014 when our minimum requirements for mitigating measures affecting Sharphill Wood were put forward. Assurances were received that, while no guarantees could be made, and given that the community park would be smaller because of the larger number of houses, the original mitigating measures for the 2009 proposals were still in place. At a subsequent 18 March 2015 meeting with representatives of the developers the Group again put forward our minimum requirements, which will be taken forward in continuing discussions with the Council and developers.  
Publicity 
Apart from investigating a replacement for our website, the year has been spent making sure it and our facebook page were dynamic and effective. New articles and pictures to keep interest in the Group have regularly been added. Articles for the West Bridgford Local News, outlining what we do as a Group, have frequently been published. Maintaining the website involved adding people who follow us, keeping them informed about what we are doing, requesting their input and encouraging new volunteers. The Group email box was also monitored and incoming emails forwarded to the relevant officer for action. We have regularly replaced posters on  the notice boards in the wood and on local notice boards around West Bridgford  showing, for example, dates of work parties and walks. 
Nottinghamshire Wildlife Trust Wildlife on your Doorstep Award 
For the second year running, we received an award in recognition of our efforts. Following last year's Rushcliffe Borough Council award for Protecting and Enhancing our Environment, we were awarded the Wildlife on your Doorstep group award by the South Nottinghamshire Wildlife Trust Local Group. Phil Miller received the award on our behalf at a ceremony on 23 April 2015. Special thanks must go to Ben Driver of NWT who nominated the Group. The award is yet more testimony to the hard work put in by volunteers looking after our much-loved wood. 
Nature surveys 
In May and June we completed the 2014 series of nest box inspections and submitted the results to the British Trust for Ornithology (BTO) Nest Record Scheme. Of 24 boxes inspected, it appeared that Blue Tit and Great Tit had used 9 successfully and a further 5 had evidence of nest building (abandoned without laying). This was an increase on 2013. In April 2015 we carried out the first inspection for this year. An informal bird survey was carried out in June 2014 and an informal butterfly survey in July 2014. 
We are grateful to Gordon Dyne who made a recent visit to confirm that this spring's Early Purple Orchid are doing well with 54 recorded, which is double the previous year's count. These relatively rare plants are one of the reasons we must continue to care for the wood's flora. 
Work Parties 
During the period May 2014 to April 2015 we held 10 scheduled Sunday work parties, plus two additional work parties in October and January to clean out and repair nest boxes and 5 nest box inspections in May/June 2014 and April 2015. Altogether this amounted to 406 hours of volunteers' time. Specific accomplishments during the year were the installation of palings to block the gap at the southern end, dead-hedging to block gaps on the western boundary, damage repair to the vehicle gate at the Wheatcroft entrance (with particular help from David Nicholson-Cole), repairs to the steps at the southern entrance, and placement of stones on the muddier sections of the path (again with particular help from David). In addition there were the usual jobs of removing Sycamore and Norway Maple regeneration, removing fallen trees and branches, blocking unofficial paths within the wood, litter picking (see the above example of the aftermath of a party), a limited amount of wood-chip spreading, tending to whips planted over the previous 2-3 years, path edging repair and, with the use of a new brush-cutter, the trimming back of encroaching vegetation along the main path during the summer. Holly, wild privet and oak saplings grown in Friends' gardens were planted during some of the work parties. 
The nest box work parties cleared out all the 24 newer nest boxes (those inspected last year) and repaired the opening mechanisms on 8 of the older boxes, making these suitable for inspection in 2015. Four new boxes of a design suggested by the BTO (British Trust for Ornithology) for attracting Treecreepers were constructed and installed. 
Community participation 
All partners managing Sharphill Wood have agreed to work to five key Management Objectives, one of which is to "Encourage public understanding and awareness of issues relating to the site". The Friends' Group carries this out through its publicity and awareness activities such as the website and facebook, however whenever possible we carry out talks, presentations and use displays at public events.  This year we gave a presentation to the West Bridgford Local Area Forum, which has the potential to provide us with much support. It is attended by all of the local councillors and many local voluntary organisations as well as officers from public sector agencies. This talk led to an invitation to speak at the Rushcliffe 50+ Forum, many members of which are retired and potentially can join us to carry out work. Another influential forum at which we gave a presentation was the Rushcliffe Nature Conservation Forum. Again many partners there were pleased to increase their understanding and awareness of the work that we do and the plans we have for protecting the site. 
We also held community walks over the last year.  The usual Boxing Day walk unfortunately didn't encourage many people out for a post Christmas walk. We also held our annual walk on 28th March, which again was not well supported by the community, however those that did attend were very appreciative of our efforts, including a member of the local history society. 
Several Geocache volunteers came to visit us on our April work party as part of their giving back to the community annual event, when they choose a different group every year to help for a day. 
Finance 
Annual Financial Report 1st April 2014 – 31st March 2015. The year-end asset balance was £656.46. Again we have found our requirements covered by donations from our kind supporters. Rushcliffe Borough Council provided funding for gravel to dress the paths and try to minimise the mud problem. Councillor Wheeler responded to our request to reinforce the boundary, which is breached in many places – this work is ongoing and funds are shown as restricted.  
Su Collins graciously continued to provide funding in kind by offering her home for our regular meetings.  
These donors are thanked profusely for their support.  
Acknowledgements 
The Group would once again like to thank Nottinghamshire Wildlife Trust, especially Ben Driver, Paul Phillips of Rushcliffe Borough Council and Gordon Dyne of the South Notts Group for their continued advice and support. Also, thanks to the many volunteers who helped at our work parties. 
Phil Miller (Chair), Mike Rivett (Vice Chair), Chrissie Wells (Treasurer), Jo Miller (Press Officer), John Elwell (Work Party Coordinator) and Bill Logan (Secretary).