There are three official access points to Sharphill Wood
1 The Peveril Road entrance –
There is  a walking route from the top of Peveril Road, West Bridgford.  Walk up the hill to the top to the Peveril Entrance to the wood. (No Public Car Park available). The wood can also be accessed via the Spinney that runs from Loughborough Road, along  the side the cemetery in West Bridgford, across the field to the Peveril Entrance. 
2 The main Wheatcroft entrance  & 3 The Kissing Gate Entrance  –
They can be accessed by walking past the Notcutts Garden Centre ( Wheatcroft ) to the industrial estate and following the walking route Way Markers on the left of the industrial estate to the entrances 2 & 3
At this time Sharphill Wood is not accessible for wheelchairs.
If you would like a printable map click here
or the map can be viewed below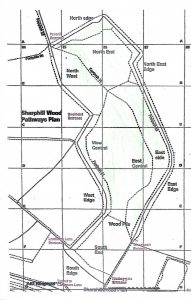 This information may be updated from time to time